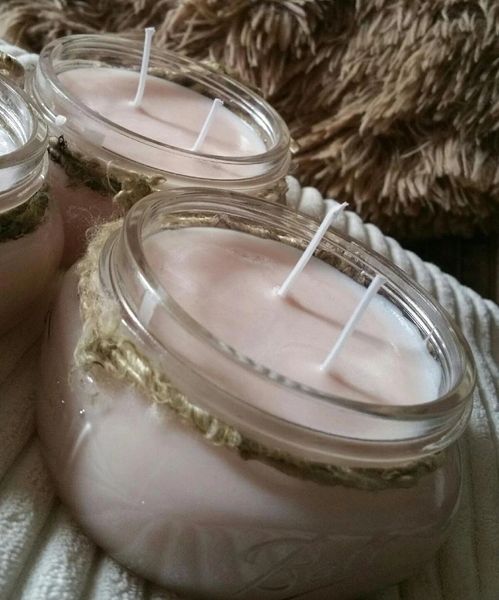 A spa in a jar....these hand poured candles are the Classic Candle with a sensationally sensual twist. Made with soy, shea butter and coconut oil, once melted...the candle becomes a warm massage oil and super silky moisturizer. The perfect way to create a soothing, sensual ambiance in any room and leave your skin feeling soft and supple to the touch. Be confident in treating you or your partner to a luxury massage experience as the heated oil takes you to new heights of pleasure.
Gift options and Custom Décor Available
Add essential oils to your candle to further enhance and elevate the tranquility of your mood.
Available in the custom scent of your choice. Use the scent blends personally crafted by Me, or feel free to type in the Specialty Custom Blend of scents of your choice.
Cuffing Season: Soft and soothing and sexy. An aroma evocative of a steamy afternoon in bed with that certain someone.
Tropical BaeCation: It smells like what a fun in the sun FEELS like. Fresh fruit Pina Coladas, lazy mornings, sunsets in paradise and sex on the beach (minus the sand in your butt)
The NightCap: An intoxicating blend of vanilla bourbon and citrus with earthy top notes. Invite someone in for the evening.
Savage AF: Captivating. Compelling. Carnal. The scent equivalent to a night of HELL YES. An exotic, earthy aroma with a woodsy base and floral top notes.
Pretty Pussy: Everyone wants one. A delicate floral bouquet blended with hints of citrus and musk. The embodiment of the most passionate essence of a woman.